YEAH!!! I'm so excited to be participating in my first ever blog hop giveaway. Thanks to Candace from Candace's Book Blog, Angela from Reading Angel, Lori from Pure Imagination and Mary from The Book Swarm for hosting the Spring Blog Carnival Blog Hop Giveaways & Challenges.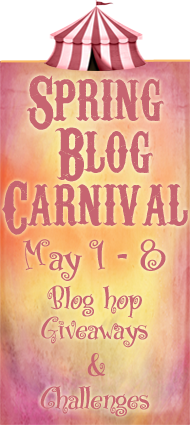 So, on to what is being given away!
The winner will have their choice of any book pictured below.
Hopefully there is something there for everyone.


The Details:
Only one entry per person
Open to anywhere The Book Depository ships (Click
here
to check)
Must be 13 or older to enter
Winner will be drawn at random
Ends May 8
To enter, fill out the form:
CLOSED
There are 200+ blogs signed up, which means there are a lot of chances to win something. So, hop to another blog on the list to enter their giveaway and check out the booths (challenges) on the dates listed below. Good luck!
May 1st
Reading Angel: Haunted House
Reading Teen: Fortune Tellers Booth

May 2nd
Candace's Book Blog: Food Court
The Mod Podge Bookshelf: House of Mirrors

May 3rd
The Book Swarm: Roller Coaster
Actin' Up With Books: Karaoke Booth

May 4th
Pure Imagination: Kissing Booth
Lovely Lit: Once Upon a Time Booth

May 5th
Awesomesauce Books: Gaming Booth
Books R Us: Medieval Booth

May 6th
Extreme Reader Book Reviews: Guessing Booth
Colloquium: Cotton Candy Booth

May 7th
The Minding Spot: Teacups Booth
Miss Remmers Review: It's a Bad World Booth
––––––––––––––––––––––––––––––––––––––––––